Affordable Permanent Leak Monitoring
Are you struggling to meet the costs associated with monitoring water leakages across your networks?
WaterGroup and SebaKMT have created the Next Gen N3 Permanent Leakage Monitoring System. A system that forgoes detailed pinpoint correlation in favour of:
Lower capital costs (about half as many N3 loggers and communication devices are required, plus the communication devices are cheaper as they do not have the G3 module)
Easier and faster to deploy as there are less devices and less care needs to be taken to accurately record the position of each logger and to connect each logger to its associated communication device.
Simpler to operate and maintain due to less complexity and more robustness as per the factors explained above.
Lower O&M cost
The trade-off is that leaks are detected to within a 300-500m section only, i.e. traditional leak localisation methods, like e.g. manual correlation, will need to be employed for final pinpointing.
How it works
The network is monitored in 300-500m sections. Each N3 noise logger (Fig 1) is accompanied by one GT3 (Fig 2) for data transmission but without GPS synchronisation as a real time clock is no longer required since there is no correlation. This makes the set up simpler and lends the system more to a "lift and shift" type method where it may be left in place to monitor a particular section for say 1-3 months before it is moved to another critical part of the network.
FIG 1 - N3 Loggers
FIG 2 - GT3
FIG 3 - SebaCloud
Due to the extended logger placement of up to 500m apart and so the correlation or pinpointing of a leak is no longer possible. Instead there is visual confirmation via the SebaCloud (Fig 3) of a leak within either side of a logger (Fig 4). Manual leak detection within that section will then be required to pinpoint the leak.
Possible leak alert scenarios using the Next Gen N3 system.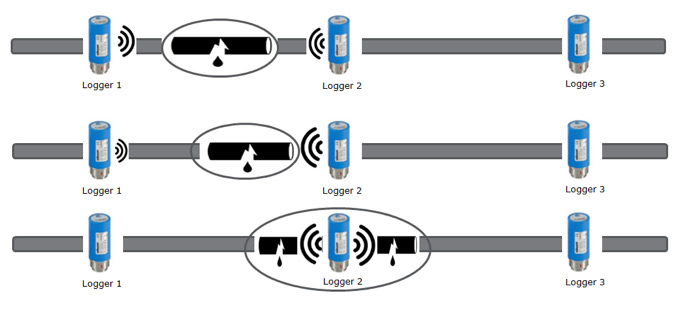 FIG 4
The data transfer between the individual devices takes place automatically based on a predefined time schedule. However, you can also set numerous parameters, such as the time of measurement, according to your own requirements. Modifications are easily made once the system has been installed including firmware updates over the air.
Benefits of Permanent Next Gen N3
Reduce the risk of large busts and the disruption and expensive failures caused by them.
Automatic data transmission saves you the time consuming task of driving past each logger.
Offers a wide range of analyses, such as the ESA (Enhanced Spectrum Analysis) value or the history function, so that you can track the condition of the network over a long period. This means critical sections of the network are easy to identify and there will not be any nasty surprises.
If the loggers detect a leak, you can query the automatically recorded noise data from the affected measuring points. The noise data is transferred and available to you. You can listen to the recorded noises in order to tell whether the alarm message from the logger was caused by a genuine leak noise or from extraneous noises.
You can carry out nearly all functions involving the Sebalog N-3 network using a versatile, state of the art application accessible via the internet. In the cloud, you always have an overview of your entire network and can view current and historic measured data and track how the readings change over long periods.
You can save pipe network data, correlate measurement results and use network diagnostic functions. The internet based operating system is compatible with all operating systems and terminal devices