Guenter Hauber-Davidson
Managing Director, WaterGroup
Guenter Hauber-Davidson, our Managing Director, is one of Australia's leading water conservation practitioners. Guenter has been instrumental in developing cutting-edge water conservation designs, tools and models. He is also at the forefront of developing innovative rainwater harvesting solutions. His current focus is on sustainable recycling.
To date, he has been involved in the development and delivery of well over 100 water savings projects. He has also developed a smart water meter. Guenter is amongst a handful of water conservation experts who can claim extensive involvement in the implementation of large-scale integrated water conservation schemes. He holds an MSc in Environmental Engineering and has spent his entire career working in the water and wastewater treatment field.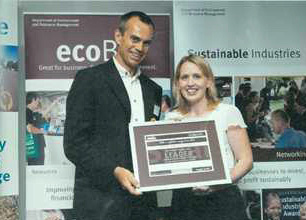 Queensland Business Cluster award presented by the Queensland minister Kate Jones.
---
Nils Freudenberg
Senior Engineer, WaterGroup
Nils Freudenberg has close to 10 years of experience in the water industry. He has been involved in major water projects during this time. His main focus has always been directed towards the improvement of the sustainability of technical systems. He has joined WG to support our growing water conservation business with process QA, data analysis and identification of further savings and business opportunities. His academic background in process and environmental engineering has given Nils the technical and creative-thinking skills necessary for each of his projects.
Nils has previously worked overseas for highly respected Nolde & Partner in Germany where he managed a government supported research project. 'On-site Heat and Grey Water Recycling in Urban Areas'. He successfully designed and constructed an airlift bioreactor with low operational and investment costs, calculated and designed the dimensions of the project's heat exchanger and ensured its efficient and reliable operation.
---
Aimi Macready
Sales and Marketing Manager, WaterGroup
Aimi is an accomplished, B2B and Channel marketing professional. Over the past 15 years she has worked with world class technology and related organisations and believes the real value a business can give to its customers, is not achieved through the product or technology alone… it starts with people. Her passion as a marketeer is to work collaboratively with people to get to the heart of individual business needs and provide them with valuable insights and tools that can benefit them and their business.

Working in the technology space Aimi has also developed a passion for the IoT ecosystem and the way it all works together to help companies and consumers manage their digital lives in a smarter way. She is excited about how the IoT is driving the next level of digital adoption and creating better business outcomes across hospitals, universities, water utilities and shopping centres, especially when it results in water conservation and savings! Outside the office, Aimi likes to experiment with cooking and spending time with family and friends.
---
Leo Yang
Senior Data Engineer - IoT, WaterGroup
Leo is a highly proficient full stack software engineer with 10+ years' experience in solution architecture, web application design, data analytics, report and visualization. He has worked across a broad spectrum of business segments such as sustainability monitoring, smart metering, smart agriculture, and asset tracking and mining. He has professionally demonstrated a history in designing, delivering and managing end to end IoT platform and solutions, and has seamlessly integrated cutting edge IoT hardware & services.
He excels in delivering tailor-made IoT solutions integrating industrial SCADA systems, LoraWAN & Sigfox, 3G/4G and NB IoT sensors along with smart metering diversified protocols such as Modbus BACNET, MQTT/COAP etc.
Leo holds a Bachelor and Masters in Engineering.
---
Ijaz Ahmad
Smart Metering Engineer and Senior Leak Detection Technician
IIjaz holds a bachelor in electrical engineering, and has been involved in the testing, commissioning and deployment of over 25,000 smart meters in UAE, Saudi Arabia, Jordan and Egypt.
Along with his in depth experience in all facets of smart metering roll outs, Ijaz also brings a deep understanding of communication protocols.
With Ijaz now on board we can bring even more knowledge, skill and deployment insights to our customers.
---
Zhengyuan Lyu
Smart Metering and Projects Technician
Zhengyuan holds a Master of Electrical Engineering degree from the University of New South Wales. He overseas stock management, QA as well as smart metering installations. Being our in-house technician, he carries out stringent quality control of our products.
---
Arif Ullah
Smart Metering Engineer, WaterGroup
Arif is an experienced engineer from a Telecommunications equipment background.
He holds a Bachelor in Electrical Engineering. He is responsible for stock management, QA as well as smart metering installations. Being our in-house technician, he carries out stringent quality control of our products.