HydraCommunity is the ultimate water management platform. It is a cloud-based service that enables all stakeholders involved in water management and conservation to collaborate together to gain insights into water use and drive outcomes towards efficiency improvements and return on investment. Stakeholders include, water agencies, water customers, service providers and governing agencies. The WaterGroup HydraCommunity is designed to support an ever growing ecosystem of smart meters, sensors, and other devices to bring water management onto one feature rich platform.
More info coming soon.
---
Envizi provides water, energy, and sustainability software solutions. By consolidating water, energy, waste, and CO2 data into one platform, Envizi offers holistic insights into the sustainability performance of your organization. Viewing this data at an enterprise level allows clients to apply consistent policies to notification alerts, and track anomalies in a uniform manner - independent of the underlying meter equipment or provider.
More info coming soon.
---
SebaKMT was founded in 1951 as a commercial agency for industrial installations. The founder Dr Herbert Iann soon expanded his enterprise by producing and developing measurement equipment for locating leaks in drinking water distribution networks. SebaKMT is now the world's leading developer and manufacturer of measurement equipment for diagnosing the condition of networks and locating faults.
SebaKMT's product range make an important contribution to the reliable - and therefore economic - operation of water networks across the world. For over 60 years SebaKMT has been a partner to all significant operators of electricity, water and telecommunications networks.
WaterGroup is happy to partner SebaKMT to deliver water loss management solutions to the large water users and water utilities.
For more information about SebaKMT solutions click on the link: SebaKMT
---
In the rapidly evolving world of Smart Metering and IoT technology, it is essential that data management systems be robust, secure, and flexible to cater to a wide range of hardware and software solutions. WaterGroup have the most advanced integration platform available, powered by Reekoh. This enables data collection from all makes of Smart Metering hardware, the transformation of this data into any common format, and the loading of this data into storage systems and all common software applications such as Envizi, BMS, SCADA, Google Analytics, Microsoft Power BI, SAP, and more.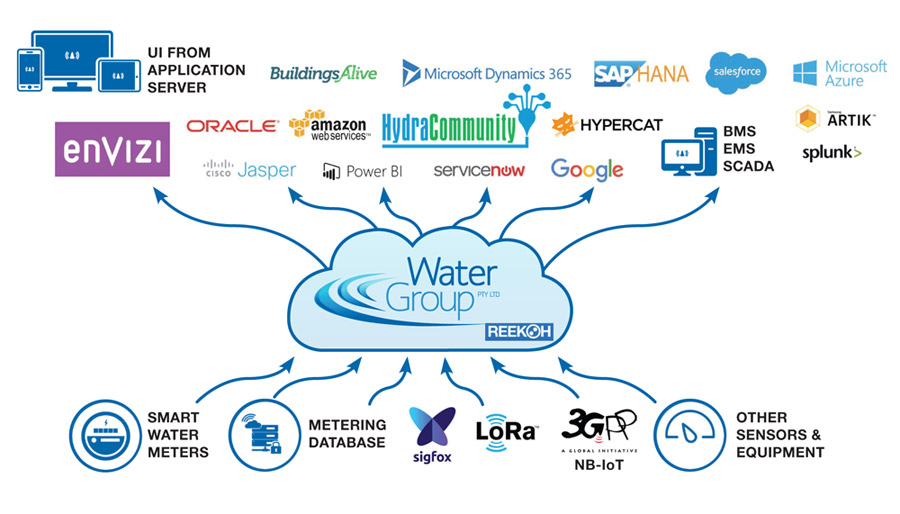 ---

Outpost Central is an award winning smart meter web platform provider and device manufacturer. WaterGroup has partnered with Outpost Central, working with utilities and large water users to connect water and energy meters to the web.
For more information about Outpost Central visit their website: Outpost Central
---
RBS Wave GmbH is a German engineering firm that specialise in water, energy and related infrastructure. WaterGroup is proud to partner RBS Wave to deliver ground-breaking solutions such as LeakControl water network monitoring solution.
For more information about RBS Wave visit their website: RBS Wave
---
WaterGroup has access to a range of specialist sub-consultants when needed.