There are a number of ways to detect, locate and pinpoint leaks and bursts in any water network. From leaks on small pipes in residential properties to leaks on water mains being surveyed by water utilities, we have a full range of leak detection tools to help you accurately find the source of your water loss.
---
Correlux C3-HL
Modern ground microphone and C-3 HL correlator in one.
Correlux C-3 HL completes the successful Hydrolux range. In addition to DSA technology (double-segment analysis) from the HL-5000, it also features a pitch function. It allows the user to convert low-frequency leak noises into more audible frequency ranges with the simple press of a button making the analysis of potential leak noises easier and more reliable.
With the option to add PT-3 power transmitters or the MS-3 digital multisensors, you can expand the Correlux C-3 HL simply and cost-efficiently into a powerful correlator system. The corresponding functions are already integrated into the Correlux C-3 HL, making the system "correlation ready".
Features such as an operating time of 16 hours and the protection class IP65 top off the package offered by the C-3 HL.
---
HL 50 BT
Hand-held leak locator with integrated sensor and Bluetooth headphone
Thanks to its particularly ergonomic shape the HL 50- BT is a single hand operated instrument. Two operation buttons and a thumb - that's all you need to use the HL 50-BT. In the standard version, the HL 50-BT offers an integrated sensor and Bluetooth headphone. There are no irritating connection cables. The HL 50-BT therefore offers optimal mobility and is highly suitable for listening to valve spindles, hydrants and fittings in buildings.
A large LCD display shows the measured sound level simultaneously in numerical form and as a bar graph. In addition, the set frequency filter is displayed. When a measurement has been completed, the previous measured sound level is indicated on the bar graph. For great flexibility and professional use, three optional external microphones are available.
---
Hydrolux HL 7000 - Electro-acoustic leak detection with ground microphone, sensor rod and tracer gas
Special features:
Completely wireless thanks to Bluetooth®
Intuitive operation with clear touch colour display
Always ready to use due to powerful lithium-ion rechargeable batteries
Integrated GPS receiver
Environmental/extraneous noise reduction
Frequency analysis
Optional: Connection of a tracer gas sensor
---
C3 Series
Special features:
Easy to use with touch display
Online and offline correlation
Long operating time and inductive sensor charging
Pinpoint location using multi-sensors or ground microphone
Perfect for plastic pipes and pipelines
Multi-correlation without pipe parameter input
---
Sebalog Corr - The multipoint correlator
Programmable sensors for day/night measurement
Correlate up to 8 sensors simultaneously
Analysis via laptop
GPS receiver / Smartphone-App for determining coordinates
Pinpointing function
Real-time measurements
User video Sebalog Corr of SebaKMT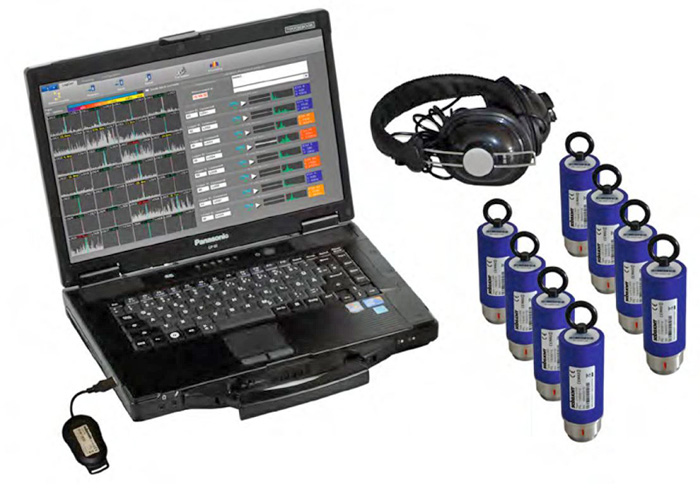 ---
Undetected leakage can cost thousands of dollars before being discovered, usually by increases in water bills. We can provide services which act as an "insurance policy" against this.
Smart metering - permanent, automatic leakage alarms.
Mini-logging - a one-time, low cost alternative.
Tailored solutions for commercial, industrial, and residential consumers.