Pressure and flow rate data loggers with 3G
Function
Sebalog D-3 (in short: Log D-3) is a compact, robust, and extremely versatile data logger (Figure 1). The device can record the readings of various sensor types (flow and pressure) in user-defined intervals. Depending on the configuration, up to 4 freely programmable channels can be connected to sensors for data recording.
Log D-3 loggers are also available with integrated pressure sensors. Hoses can be connected directly to the device to perform a pressure measurement. In addition to the standard pressure measurement, the recording of suddenly occurring pressure increases or decreases is possible - so-called "pressure surge measurement".
Besides, the "pressure analysis measurement" allows the long-term recording of the pressure curve with a narrow measuring interval. Using the 'real-time measurement' function or the 'Step Test' function, a measurement can be carried out and observed 'live' on a computer.
The logger can be used for monitoring purposes, as it is able to trigger user-defined alarm signals (e.g. signal lights, SMS or e-mail) if a threshold is exceeded or special alarm equipment is triggered.
Recorded measuring data are stored in the logger's memory and can be retrieved via short range radio. Loggers equipped with a GSM module can also send the data regularly to an FTP server, from where they can be downloaded to any Internet-capable computer.
Programming of the device, as well as retrieving and evaluating the recorded measuring data is performed by the help of the 'SebaDataView-3' PC software.
Figure 1: Sebalog D3
Communication
The SebaDataView-3 software is used on a PC/laptop to program the logger before the measurement and to retrieve the collected data after the measurement.
Short range radio is used for communication between the devices. The computer must have a radio interface. For that purpose the 'Log RI' or "Log RI+" can be connected.
Furthermore, if the logger is equipped with an internal GSM module, measurement data uploads to an FTP server or configuration data downloads to the logger are possible (Figure 2).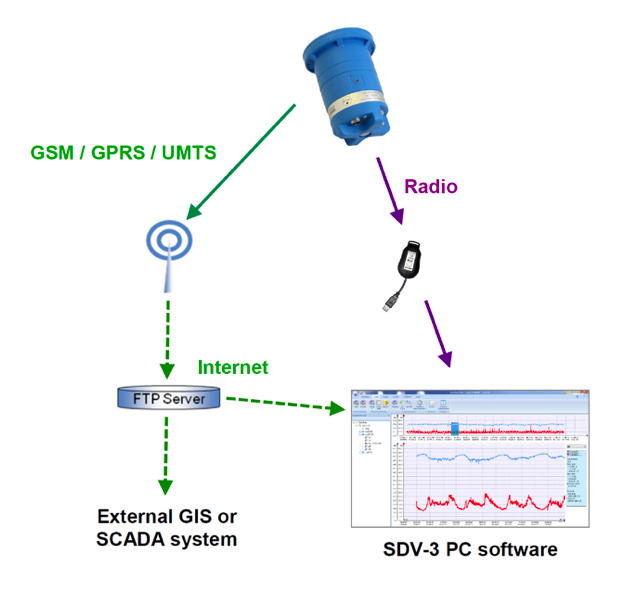 Figure 2: Communication Architecture
Technical data
Depending on the configuration, the Sebalog D-3 is specified by the following parameters:
Parameter
Value
Communication
Short-range radio
916 MHz
Mobile radio (GSM / GPRS / UMTS)
850 / 900 / 1800 / 1900 / 2100 MHz
Inputs / outputs
2 or 4 freely programmable channels,
digital: 0M5 V / pulse / frequency
analogue:4M20 mA (max. 2 channels);
Up to 2 switching inputs (alarm trigger);
Up to 2 switching outputs (alarm installation);
Connectors for internal pressure sensor
Internal pressure sensor
optional (16 bar / 25 bar / 35 bar);
accuracy: +/- 1 %
resolution: 0.006 bar (16 bar sensor)
Log interval

standard measurement
pressure surge meas
Standard measurement
1 sec up to 24 hrs selectable
Pressure surge measurement
0.1 sec or 1 sec selectable
Memory
4 MB internal memory
block or roll memory selectable
Alarm
Switching input and threshold monitoring for each channel
possible;
Triggering of switching output(s);
Alarm messages via SMS / e-mail;
Measuring data upload to FTP server in case of alarm
Battery
Internal lithium batteries (up to 5 years, standard configuration)
Ext. power supply
12 V DC
Operating temperature
-20°C M +70°C (-4°F M 158°F)
Operating temperature
5°C M +70°C (41°F M 158°F)
Storage temperature
-20°C M +70°C (-4°F M 158°F)
Dimensions (L x W x H)
approx. 185 x 115 mm
Weight
approx. 0.9 kg (incl. batteries)
Degree of protection
IP 68